Wingman partnership – In it Together
We tailor the most valuable solution to fit your vision and business goals. But it takes more than licenses and a box of equipment to benefit from your new solution.
We offer a partnership based on trust, mutual commitment, and long-term collaboration. Collaboration is key to our partnership because – together – we can realize the potential of your solution.
We are and will be your wingman throughout the life of the solution.
Wingmen Partnership Life Cycle Model
Wingmen Partnership Life Cycle Model builds on the close collaboration throughout the entire life cycle, from planning the most optimal solution to implementation, adaptation, and optimization.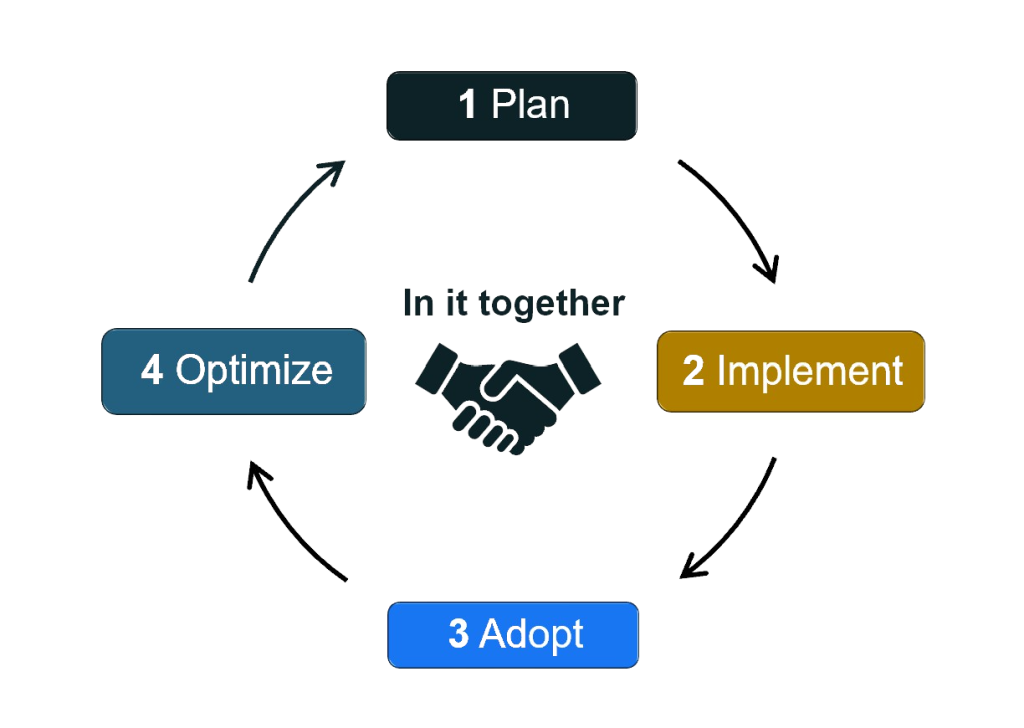 Through a series of workshops, we collaborate on defining a high-level design, a high-level schedule, and the desired business goals for your IT solution. The business goals will determine the milestones and KPIs for completing the implementation. As the customer, you choose the implementation model that suits you best from our three implementations models 'Show me,' 'Do it with me,' or 'Do it for me.'
First, we deliver a low-level design, which forms the basis for the implementation phase. Our skilled consultants oversee the implementation of the solution according to the agreed-upon implementation model. The challenges that may occur become visible along the way. Hereafter, we begin the agreed training courses.
We ensure that the technical solution meets the objectives defined in the Align phase with the correct services and that you have the necessary skills to operate the infrastructure to gain the full benefit of the solution. We evaluate whether additional challenges have arisen that need to be addressed. 
We support you with regular meetings to define and elaborate on further opportunities to optimize the solution and continue to match your current and future business goals and needs. We offer our Wingmen Advantage Services to support the network solution. 
CUSTOMER EXPERIENCE MANAGER